Big Girl Bed
For the last week, Eryn has been complaining loudly of not being able to get into her crib by herslef, so today it underwent the transformation to toddler bed. Eryn was so excited while I made the changes she kept yelling "Do it self! Eryn do it self!"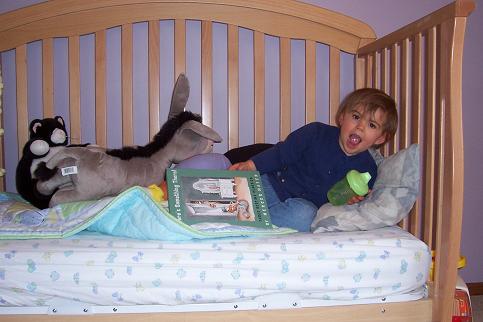 She did really well at nap time this afternoon; tonight, she's been in bed chatting to herself for two hours (no crying or asking for us, no getting out of her bed, just reading and talking).
Scooter
checked on her a bit ago, and she told him over and over "Mommy fix[ed] Eryn's bed!" He said she doesn't seem upset or like she wants it put back the way it was - but maybe a little weirded out. I haven't heard anything for five minutes...maybe she's finally asleep in her big girl bed.
Monday, April 18 - Eryn is 2 years old today!
And, it's 1:40 in the morning, and she just, finally, fell asleep. Big girl bed anxiety, apparently.