Travels
Eryn and I traveled alone by car to Chicago on Friday to attend my nephew Max's first birthday party. (Eryn was a peach. I attribute it to
good breeding
and the existence of portable DVD players.) This was
an event
. My sister, L, said the invitation list got "out of control." Her husband, M, owns a cookie company (you can see and order
Golden Walnut cookies here
), and the factory became Party Central on Saturday afternoon. Obviously,
Cookie Monster
was in attendance.
Here's the birthday boy decorating cookies: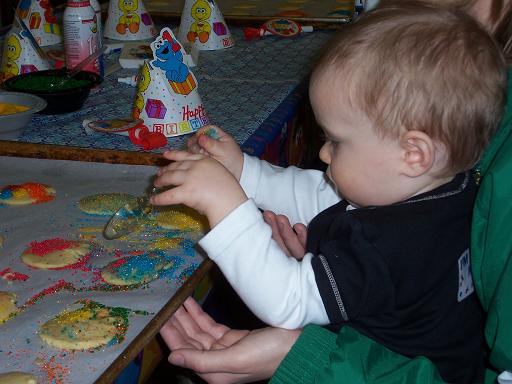 I'm linking to other photos from the weekend, or this post will be too heavily laden with photos and will annoy any of our friends who, like us, continue to log onto the internet with something akin to cups and strings.
Eryn and Grandma Geri decorating cookies
Eryn with balloon bunch after the party
Max and his new fire engine
(courtesy Grandma Geri and Grandpa Larry)
Eryn driving the forklift at Golden Walnut
Aunt L with Eryn
L and Max at Michael's after the party
Eryn watching Boundin' on The Incredibles DVD in hotel
(post party)
Sleepy toddler in the middle of Wisconsin
(on the way home Sunday)
Oh, one more. This is what it looks like when traffic stops - dead - on I-94 just East of Eau Claire. For 30 minutes.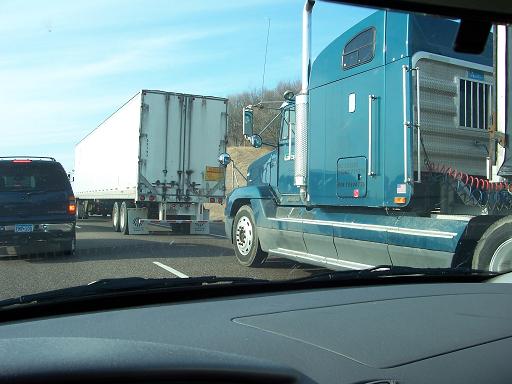 We moved a bit once, about 10 minutes into this (I have no idea why), and I was able to see that I was just one exit away (!!) from Private Pleasures, the Adult SuperStore, which is apparently also just East of Eau Claire.