Two
We had Eryn's 2nd birthday party on Saturday. It was a much smaller affair than her 1st, but she was pretty excited. I'm posting one picture (Eryn helping us clean before the party) and linking to the rest so this isn't terribly photo laden.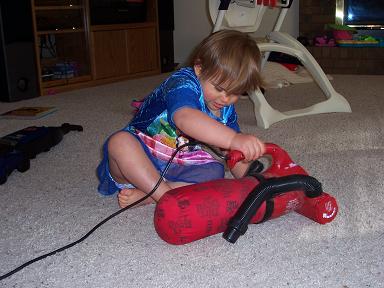 Eryn and Millie having tea at the new table (from Mana and Papa)
Eryn on her new "big slide"
(from Dan, Katie and Conner)
The lineup for the big slide
Opening the Sit-n-Spin (from Jackie, Andrew, and Oliver)
The Spin-N-Puke is most fun if Uncle Andrew spins it