House
Eryn has a new toy. Well, dwelling. My parents got her a Step 2 playhouse through the ads at Mom's job, and it now resides in about 1/4 of our porch. It's so big it took two trips in a pickup to transfer it from old owner to new owner. (I can stand up straight under the peak of the roof. Yes, I'm short. That's not the point!) After the first trip, we had the smaller walls and the roof. Eryn understood it would eventually be a house and wanted IN. NOW!
She tried to wait patiently for the rest of the pieces to arrive, but it was hard, and she kept running back and forth between the porch and the front windows to look for "Papa and Mana's car":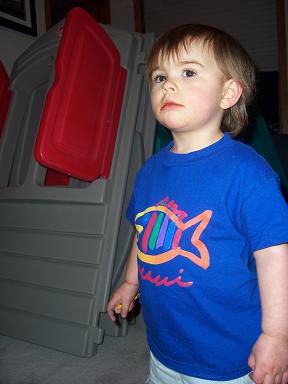 She also insisted that Scooter should put the house together with what pieces we had: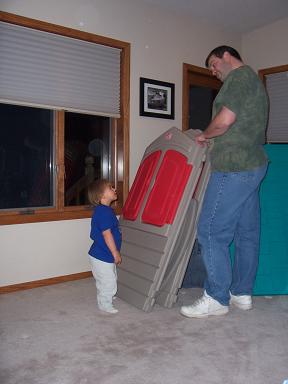 And then she decided everybody had to get inside. You can see Grandpa Larry's arm in this photo. Daddy and Grandma Geri are also inside, with Eryn patrolling the perimeter to make sure they didn't escape.